7 Greatest Celebrity Rags to Riches Stories

In times of trouble, a good ol' rags to riches story gives us hope that we, too, will persevere and achieve the American dream.
These 7 true stories of people shooting to fame and fortune from humble backgrounds are something Horatio Alger couldn't even have dreamed of. (Remember Horatio Alger? Freshman high school English? The dude that literally wrote the book—hundreds of them—about down-and-out boys achieving success through virtue, luck, and pluck?)
It's the 2000s. We're not talking homeless boys finding jobs as dishwashers, and finally achieving some stability in their lives. We're talking big bucks. Millions and billions of dollars accumulated over a single lifetime.
Who would've though a little luck, pluck, and virtue could get you so far…
1. Oprah Winfrey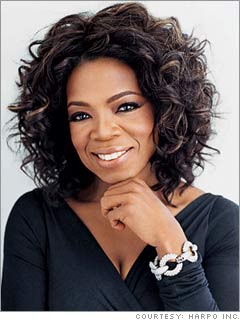 She's got 2.7 billion dollars. You could easily retire on a thousandth of what she's got. But following in her footsteps on your way to fame is certainly something nobody would want to do.
She was raped at 9 years old, and gave birth at 14-years old to a son who died in infancy. Winfrey landed a job in radio while she was still in high school and at only 19-years old, began co-anchoring the evening news at her local station in Tennessee. Soon after, she was plucked out of obscurity, and given her own talk show. Because of the emotional ad-libbing Winfrey used as a news anchor, people responded to her.
Luck factor: 90%
Winfrey's meteoric rise to fame was extremely lucky, but her ability to stay there and to hold an audience for decades can only be attributed to the media mogul's own virtue and solid work ethic.
2. J.K. Rowling
Listen up, all you aspiring authors! J.K. Rowling, author of the Harry Potter series, which is now a global phenomenon, is currently worth 1 billion dollars.
Unemployed, newly-divorced, and living on welfare in Edinburgh with an infant child, Rowling dedicated herself to writing the first Harry Potter book after the idea came to her on a train ride. After having her book summary rejected by several publishing houses, one picked it up, and the rest is history.
Luck factor: 70%
It's difficult to get noticed in the publishing industry, but as they say, the cream of the crop usually rises to the top. Rowling took a huge gamble, not working at a full-time job while she worked on a children's novel. But she followed her heart, and it paid off—big time.
Got a dream? Pursue it. You never know where it might lead you…and you can always hope it leads you straight into a billion bucks! (Seriously, though, maybe a part-time job to go along with your dream-making plans would be a good idea, unless you think you're a human good luck charm.)
3. Amancio Ortega
If you've ever been to Europe, you've probably been in one of this guy's stores. Does the name Zara ring a bell? Zara stores are everywhere, offering cheap, chic, and affordable clothes. Rumored to be worth over 20 billion dollars, this fashion entrepreneur literally started out with rags.
Mr. Ortega started out working retail in a t-shirt store. At the age of 26, he made his own company, which manufactured bathrobes. At 39, he and his wife opened their first store—the one that would eventually grow into the wildly popular Zara.
Rumored to be impossible to photograph, Mr. Ortega prefers to keep a very low profile, reportedly never wears a tie, enjoys dressing in blue jeans, and is extremely active in every aspect of his business—from design to production.
Luck Factor: 20%
You never know what styles will catch on…or do you? Mr. Ortega seriously worked hard, and still does, to achieve his position as one of the world's richest men.
4. Shia LaBoeuf
Born in LA to an artist/ballerina mom, and a Vietnam vet father who never held a steady job, this breakout movie star of 2008 has made a lasting impression on Hollywood, and retired his parents along the way to fame.
How'd he do it? At the age of 10, he realized he could make good money as an actor. So he found an agent in the yellow pages, called her up, and pretended to be his own manager, speaking about himself in the third person. He must've been charming, because she took him on as a client—and later charmed Steven Spielberg as well, who cast him in the blockbusters Disturbia, Transformers, and Indiana Jones and the Kingdom of the Crystal Skull.
Luck Factor: 90%
If that agent hadn't taken Shia on, he'd be just like the millions of other talented people in Los Angeles without a job. In his favor, he had the chops to turn his luck into a lasting career.
5. Snoop Dogg
Rumored to be worth at least 200 million dollars, this skinny rapper with his own TV show started out a poor kid on the rough streets of Long Beach, California. He spent a lot of time after high school in and out of jail, entangled in drug issues. He used music to turn his life around.
Luck Factor: 60%
Dogg, né Cordozar Calvin Broadus, Jr. created hip-hop tapes with the stepbrother of Dr. Dre, who passed the tapes on to the good doctor. That was Snoop's lucky break. Since then, he's been a master of branding himself. His vocals are uber distinctive, as are his language and look.
6. Christopher Gardner
Ever see the 2006 Will Smith movie, The Pursuit of Happyness? You know you've made it when Will Smith is portraying you in a biographical movie.
In and out of foster care as a child, this entrepreneur, whose net worth was estimated at $65 million in 2006, lost his wife, and was homeless on the streets of San Francisco with a young son in the early 1980s. Determined to make it as a stockbroker, he took a position as a trainee at Dean Witter Reynolds. With little money, Gardner and his son slept in parks and public restrooms after Gardner worked as many hours as he could to become the top banker at his firm.
It all paid off: in 1987, Gardner started his own brokerage firm in Chicago.
Luck Factor: 10%
This man worked his butt off for everything he got, sacrificing a house for himself and his son as he tried to save money for a rental home. Tenacity. Got it? Go get 'em!
7. Jim Carrey
Yep, one of Hollywood's top-paid funnymen didn't have much to laugh about growing up. When Mr. Carrey was in high school in Canada, he lived in a camper van with his family, and worked eight-hour shifts at a tire factory to help make ends meet. At 16, he dropped out of high school to pursue his passion: comedy.
He took a big risk and moved to LA, endearing himself to Rodney Dangerfield while appearing regularly at The Comedy Store in the early '80s. He became Dangerfield's opening act. Later, he became friends with the Wayans brothers, getting a gig on the sketch comedy show, In Living Color and the rest, as they say, is history.
Luck Factor: 70%
The luck factor is always high for people who make it in Hollywood. But Carrey certainly has a brand of humor all his own that has proven itself popular in front of a global audience.
If you're having a tough time right now, take a few tips from these guys: never lose sight of your dreams, always work hard to achieve them, and keep your eyes out for your next big opportunity. You never know when it will present itself, but you can be certain it won't be while you're sitting at home. So put yourself out there. What have you got to lose?